Profil d'Avocat en Droit de L'Immigration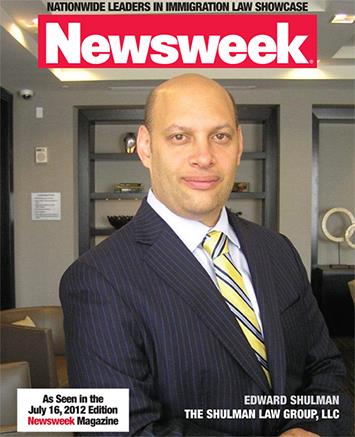 Monsieur Edward Shulman
Monsieur Edward Shulman le fondateur et chef du cabinet, The Shulman Law Group, LLC, qui se trove dans la ville de Elmwood Park, dans l'etat de New Jersey. Son cabinet se concentre spécifique mentsur le droit immigration etnationalitéet sapratique vise Í  aider Í  empêcher les immigrants d'expulsé des États-Unis.
M. Shulman est l'ancien président de l'association d'avocats de l'immigration (AILA) et de la division du droit de l'immigration de l'Organisation juridique de l'etat de New Jersey. Il a été nommé comme l'un des meilleurs avocats en Amérique pour le domaine de la Loisur l'immigration, citésdans le prestigieux journal, New York Magazine, comme l'un des meilleurs avocats de New York qui se spécialise en droit de l'immigration. Il apparaîtégalement dans le magazine, Newsweek, comme un leader avocatd' immigration aux États-Unis. Ses opinions juridique son tété cité es dans divers television, radio, et publications écrites, dont le New York Times. En outre, il a été consultant pour plusieurs universities (e.g. Princeton University) et émissions de télévision portant sur le droit juridique, comme Law & Order et Drop Dead Diva. Avant de devenirun avocatd' Immigration, ila travaillé comme clerc pour les juges dans l'etat de New Jersey and dans le pays d'Angleterre. Ilétaitun procureur dans l'ile de Maui dans l'etat d'Hawaii.
Edward Shulman a reçu son diplôme d'études collégiales de l'Université de Syracuse et son diplôme de droitde Touro Law School, Jacob D. Fuchsberg Law Center dans l'etat de New York.  Il est membre des organisations bar juridiques pour les États du New Jersey et Hawaii en plus le District de Columbia.  De même, il a gagné le prestigieux honneur d'être admis Í  plaiderd evant la Cour Suprême des États-Unis, la plus haute jurisdiction legale du pays en plus d'apparaître dans plusieurs tribunaux fédéraux et dans plus ieurs cours d'appeljuridique.