Estamos Dedicados Completamente a la Ley de Inmigración
Shulman Law Group – con sede en Elmwood Park, NJ – está reconocido a nivel nacional como uno de los mejores bufetes de abogados de inmigración en NJ. Nuestros abogados de inmigración han ayudado a muchas personas en NJ y alrededor de los EEUU a resolver con éxito sus problemas de inmigración, de aplicaciones de naturalización, visas de empleo, del cónyuge / peticiones familiares, la defensa de deportación. A través de la consejería legal en nuestra oficina de NJ y la defensa ante el Servicio, la Corte y Centros de Detención de inmigración, nuestro equipo de abogados de inmigración le guiará a través del proceso a usted, su familia y/o empleados con sus necesidades de inmigración.
La Inmigración Abogados LÍ­der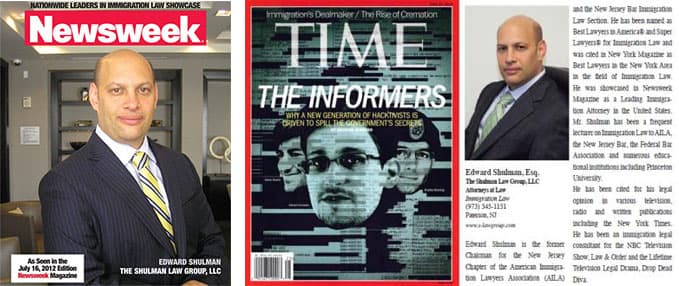 Edward Shulman y su equipo de abogados de inmigración (con fluidez en Inglés , español y francés) entienden que las leyes de inmigración puede ser confuso, lento y frustrante; nuestro objetivo es hacer que sea sencillo para usted. Ayudamos a todos nuestros clientes a alcanzar sus metas de inmigración a largo plazo al tratar con éxito con sus necesidades a corto plazo . Nuestra oficina en Elmwood Park está cerca de todas las oficinas de inmigración, los centros de detención , y órganos jurisdiccionales que resuelva cuestiones de derecho de la inmigración a través de NJ, NY y PA .
Top Immigration Attorney in New Jersey!
"Mr. Shulman is without doubt the best immigration attorney in New Jersey! My case was extremely challenging and only he could solve and resourcefully create an avenue for immigration relief. Not only is he brilliant and skillful, but he has a warm and caring personality. His office is communicative, well-organized, and always stays on top of your case. He is simply the best and I cannot recommend him highly enough."
Posted by Carlita
The Best
Prior to getting married, my husband was embroiled in a political asylum case and was using a well-known attorney in Manhattan. About a month or so before we had planned to wed, my husband was put into final removal proceedings, as his political asylum case was denied. Distraught, angry and hopeless were exactly what we were feeling until close family friends had recommended Mr. Shulman.  From the moment we stepped into his office and spoke to him, a relief came over us. Mr. Shulman is the nicest,
Posted by Emily

MÍS INFORMACIÓN AL VER NUESTROS VIDEOS
"Testimonios en Ingles con subtitulos en Espanol"
"Testimonios en Espanol con subtitulos en Ingles"
Leading experts in immigration law