The Best Immigration Lawyers in the U.S.
The Shulman Law Group – located in Elmwood Park, NJ – is nationally recognized as one of the best immigration law firms in the United States. Our immigration lawyers have helped many people throughout New Jersey and the United States successfully resolve their immigration issues, such as spousal/family petitions, deportation/removal defense, DACA, naturalization applications, business immigration (work visas) and other immigration services. Through on-site counsel at our NJ office and defense at USCIS, Immigration Court and Detention Centers throughout the United States, our team of immigration lawyers will guide you through the process and help you, your family, and/or your employees with your immigration needs.
Nationally Recognized Immigration Attorneys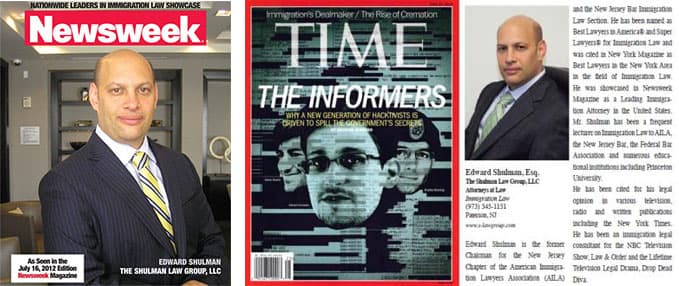 Edward Shulman and his staff of immigration attorneys (fluent in English, Spanish, French and Portuguese) understand that the U.S. immigration law process can be confusing, time-consuming, and frustrating; our goal is to make it simple for you. We help all of our clients achieve their long-term immigration goals while successfully dealing with their short-term needs. Our immigration office in Elmwood Park, NJ is near to all immigration offices, detention facilities, and courts adjudicating immigration law issues throughout New Jersey, New York, and Pennsylvania.
Top Immigration Attorney in New Jersey!
"Mr. Shulman is without doubt the best immigration attorney in New Jersey! My case was extremely challenging and only he could solve and resourcefully create an avenue for immigration relief. Not only is he brilliant and skillful, but he has a warm and caring personality. His office is communicative, well-organized, and always stays on top of your case. He is simply the best and I cannot recommend him highly enough."
Posted by Carlita
The Best
Prior to getting married, my husband was embroiled in a political asylum case and was using a well-known attorney in Manhattan. About a month or so before we had planned to wed, my husband was put into final removal proceedings, as his political asylum case was denied. Distraught, angry and hopeless were exactly what we were feeling until close family friends had recommended Mr. Shulman.  From the moment we stepped into his office and spoke to him, a relief came over us. Mr. Shulman is the nicest,
Posted by Emily

Leading experts in immigration law