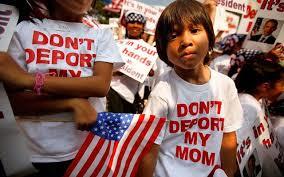 DHS Planning Nationwide Raids In January
The Department of Homeland Security (DHS) is planning nationwide raids aimed at deporting thousands of undocumented adults and children. The raids will be carried out by Immigration and Customs Enforcement (ICE) and are said to begin in January, 2016.  While a Homeland Security Spokesperson said that they will be focusing their efforts on "individuals who pose a threat to national security, public safety, and border security," there is some suggestion that ICE agents will initially target those who received a final order of removal on or after January 1, 2014, with specific mention of individuals ordered deported after fleeing from Central American countries, including Honduras, El Salvador, and Guatemala.
The American Immigration Lawyers Association (AILA) said that if DHS were to move forward with such plans, the government would be going after "perhaps the most vulnerable population, comprised of mothers and children who came to the United States looking to escape adverse environments characterized by domestic abuse, rape and even murder. AILA's director of advocacy, Greg Chen, acknowledged that rounding up large numbers of Central Americans "is going to instill fear in the community and further traumatize a population that is already traumatized.
At the Shulman Law Group, LLC, we urge any undocumented individuals to seek immigration consultation and counsel in preparation for the upcoming raids.  We hope to educate individuals about the immigration process and about the various options and avenues of relief from deportation for which they may qualify.  Our office provides compassionate assistance in a confidential setting where individuals will feel safe to discuss their personal immigration cases.  Edward Shulman, Esq., firm founder and former Chairman of the New Jersey Chapter of AILA is a leading expert on defense against deportation