E! NEWS INVITES EDWARD SHULMAN TO STUDIO FOR EXPERT LEGAL OPINION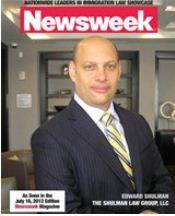 Immigration attorney Edward Shulman, head of the New Jersey-based immigration law firm, the Shulman Law Group, was invited by E! News on Thursday to participate in a studio interview at 30 Rockefeller Center in New York City.  Specifically, Shulman was selected as one of the nations leading immigration attorneys to provide expert immigration legal opinions regarding the TLC Reality Show 90 Day Fiancé. In addition to shedding light on the K-1 Visa process and how it may impact some of the show's most current and former participants, Shulman was also asked about how the government shutdown could impact the ever-popular immigration-themed reality show.
Beyond discussions about how a shutdown could result in visa processing delays, E! News asked Shulman about how a shutdown may impact the casting and production of the next season of 90 Day Fiancé. Notably, Shulman explained how a shutdown could impact the Department of State, but not the Department of Homeland Security, the latter of which is fee-based and not dependent upon funds from Congress.