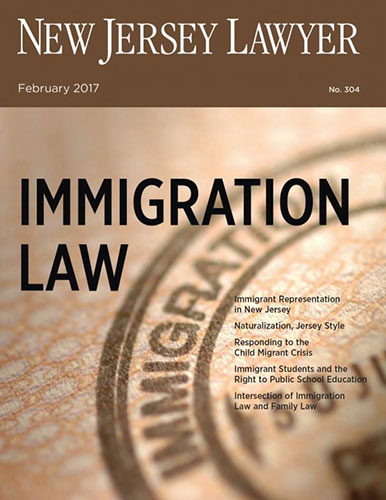 Edward Shulman's Article On Immigration Law Published In Nj Lawyer Magazine
Edward Shulman, Esq., Founder and Head Immigration Attorney of the Shulman Law Group, LLC, was a featured author in the February 2017 edition of the prestigious New Jersey Lawyer Magazine.  The New Jersey Lawyer Magazine is an award-winning professional journal that showcases informative articles by experts in specific fields of law and is affiliated with the New Jersey State Bar Association (NJSBA).
Mr. Shulman's four-page article, included in a special Immigration Law issue, is entitled: "Consequences of Marital Separation on Conditional Permanent Residency: The Intersection of Immigration Law and Family Law."  Specifically, Shulman's article addresses: 1) how to prove the bona fides of a good faith marriage for Permanent Residency; 2) the challenges for Same-Sex Marriage cases; 3) what happens when a couple separates during the conditional period?; 4) tips in applying for discretionary waivers; and 5) the critical collaboration between the Immigration Lawyer and the Family Law Practitioner.